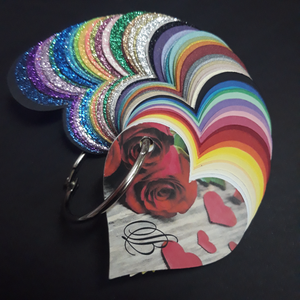 This swatch ring is made up of 2.25" hearts in the matte, metallic and glitter card colours we offer. Each sample is labelled with the colour name on the back. A great tool for paper crafters and event planners.
Limit 1 per customer.
Swatches of new colours are available at no additional cost. Please call or email to arrange collection.

Discontinued Colours
MATTE: Violet
METALLIC: Ice Gold, White Gold, Rose Gold, Midnight Shine